Last Updated on September 8, 2021
If you are waiting for long enough to buy a good Gaming Keyboard and Mouse Combo under 2000, then your wait over. Here We read together for good gaming build for your hands.
I know, there are plenty of options to buy the best Gaming Controllers. It is not modest to choose the perfect pair for you.
Why do you need a Gaming Keyboard? There is a difference of Switches Speed, Customizations, RGB Lights, Comfortiablity for the long run, which an ordinary keyboard never provide you. You are a real Gamer with proper gaming Accessories.
Here is List of Best Gaming Keyboard and Mouse Combo under 2000
1# Redgear Manta MT21 Gaming Combo
This combo comes from a well-known company Redgear, which makes mostly gaming accessories, Gamepad, Headphones, Speakers, Mouse, etc.
We considered it as best selling products in India. We searched well on this combo and found, and it is very reliable to India consumer marketing.
Keyboard
You will get amazing unique features on this keyboard. It will be an excellent choice for you to pick this combo. We kept this combo in first in this list.
This keyboard has 104 keys built on it, which is more than an ordinary keyboard with three extra keys.
The keyboard's body or base is fully Metalic, and we think it is best for long-term durability. We liked it.
It comes with Three LED colours (RED, Purples, & Blue). You can select from these colours for a better appearance.
For connectivity, it has wired with USB 2.0 cable. Don't worry about USB 3.0; it supports that format too.
It becomes a long-lasting product with 10 million keystrokes. Keystroke means: If you pressed a key one time, it counts one.
Mouse
The mouse has an optical sensor, which is quite fast from the older version.
You can control Mouse DPI 800 to 3200. DPI – Dots per inch mean it is the speed of moving the cursor on the screen. THE maximum DPI is excellent.
To get rid of Clicking problems, This mouse has 5 million clicks compacity. But don't afraid of over that limit. It works great.
You can customize mouse personalization with software. LED blinking, LED lights, Illumination Mode. Enjoy Colors under your hand.
Connect Mouse with USB 2.0 cable.
---
2# Ant Esports KM500W Gaming Backlit Keyboard and Mouse Combo
Ant E-Sports is a well-known brand in India and also introduced in 2016. This brand provides overall gaming experience accessories, like Gaming Keyboard, Mouse, Gaming Chairs, Headset, Joystick. Not ordinary products but Gaming.
We listed the best gaming keyboard combo from that company because we tested build quality, Keystrokes, Sensors and found the great overall experience. We listed it in the second cause of some miners cons.
Ant E-Sport is selling two gaming keyboard combo, where is an approx 500rs of the price difference. But we listed here Ant Esports KM500W Gaming Backlit Keyboard under 2000rs. You can check second model Gaming Combo too according to your budget.
Let's Explore this Combo
Keyboard
Feel the Rainbow Colors appearance under your fingers. It comes with Multiple colours backlit.
It has 50 million keystrokes which are enormous. We can get except it for our long-lasting experience.
Keyboard has a palm rest area, which is acceptable for extended writing, Especially for Writers.
It is Plug and Play, no CD or Software needed. You can plug in it with USB 2.0 port cable, also compatible with USB 3.0 port.
Mouse
It built with Advanced Optical Sensors for a smooth experience. It also works on any hard surface.
You can adjust four types of DPI. It is range from 800 to 3200. I recommended making it high for smooth moving.
Bright Backlit: If you are passionate with multiple lights at a time, then you can adjust lights to your choices. Logo Light, Side Light, Adjusting Colours.
USB 2.0 with 1.5 meter Cable. long Enough? Enjoy Screen distance.
Gaming Keyboard and Mouse both compatible with Universal PC platforms Windows XP to Mac Os. Enjoy Difference Gaming.
---
3# ZEBRONICS Gaming Multimedia Keyboard and Mouse
This combo comes from Zebronics brand. It's Indian brand founded in 1997 in Chennai India providing broad category of Electronics products.
Under Budget, this combo gives the excellent experience of Playing games with smooth pressing keys. We use this combo personally.
Let me share with you its specifications and exact explanation within.
Keyboard
Premium build quality with Premium Gaming design gives extra unique layers under your hands. We call it hands glowing with colourful light.
Build Quality, Its body made with

Aluminium

metal. Now Don't Worry about breakage.

It has a total number of keys

116 keys included 12 multimedia buttons

. With these multimedia buttons, you can control ongoing media like Play, Pause, Next, Previous, Stop, and others.

This Keyboard has

four modes of Multi colours

. One way for switching off lights and other 3 are various light design. You can

switch off lights with Lights button

located next to the right control.

Connectivity: You can connect this keyboard with Gold plated USB 2.0 port with 1.8 meters braided cable.
It has 80 million keystrokes, which is huge for the long term run. Don't worry about the keys missing. We except it for long.
Mouse
I liked its Ergonomic Design. Amazing.
Enjoy 7 types of colour light under your hand. RGB Colors.
The mouse is embedded with six buttons, including DPI Change button, Reverse – Forward Button. Control Pressing Quality is relatively smooth.
You can change DPI Range from 1000 to 3200.
For long-lasting Buttons life, Mouse gets 2.5 million presses, which is enough.
Connect Mouse with 1.8 meters braided USB Port cable. Plug and Play
---
4# Cosmic Byte Dark Matter Gaming Keyboard and Mouse Combo
That will be a great choice to select this combo one. Its membrane wired keyboard with three colour light.
Use it for the long term, and I found a complete my reviews; you will not get durable like that at the same budget. It will be value for money product.
This keyboard only for them who don't like multicolour backlit. It lights one colour at a time. Select from three colours: RED, BLUE, and PURPLE.
Let's explore some of the specifications
Keyboard
Mostly Gaming keyboard competes for each other in some stats, Like Keystroke, Colour light, Keys Backlit, Smooth pressing, etc.
Build Quality: I feel the build quality is above average. Keyboard made with good Quality of plastic instead of metal.
I love its keys decent from Quality to smooth pressing. It has a total of 104 keys included 19 anti-ghost keys.
Keyboard has changeable three colours: Red, Blue, and Purple as I mentioned above. You can select only one colour. It is not RGB.
Plug and Play installation with a USB 2.0 port with braided cable.
Mouse
The mouse has a total 6 of a button. Left, Right-click, Scrolling wheel, Center Button, Color change button, DPI change button.
You can also select only one colour for the mouse-like keyboard. Same colour choice.
It supports adjustable DPI from 800 to 2400. Select according to your mouse setting in the control panel.
USB 2.0 port with Braided cable connectivity.
---
5# MFTEK Multicolor LED Backlit Wired Gaming Keyboard and Mouse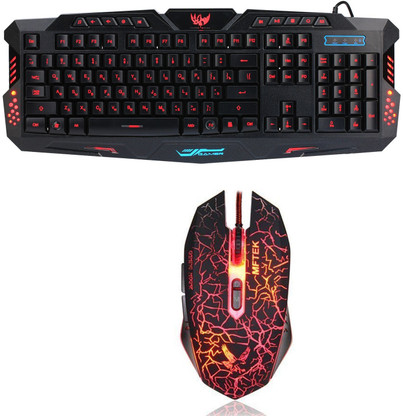 This keyboard combo gives you a real gaming experience. I got a lot of possibilities to buy this pair for me when I was reviewing it.
Go for long hours gaming with this combo without any distortion and breakage. Mouse perform on any surface. Exceptional build, you will get this Gaming Keyboard and Mouse Combo under 2000.
Let's Explore Specs together.
Keyboard
Keyboard has 104 keys, and additionally, You can control Media, Music, Email with 10 extra keys stabbed at the top of the keyboard.
Build quality: The Keyboard made of ABS material which is best for durability. Keyboard overall body is rough; you will feel quickly.
Keyboard base colour is black but is fitted with three colours of light. You can select any one of these colour: Red, Purple and blue.
Both keyboard and Mouse comes with Braided cable and extra-long with USB 2.0 port.
Mouse
Mouse top body has a different pattern printed like electric shocks, which gives the mouse a premium look.
It also has the same three colour lights as a keyboard. You can change by pressing a given button on the mouse.
Mouse design is very easy for comfortable handing. Your hand will not get tired for long hours.
USB 2.0 Port with Braided cable connectivity.
If you impressed by mouse, you can buy also a mouse only from Amazon here.
---
These were great options for giving an extra layer to your gaming experience. I listed these after reviewing 20 products from various brand. Under 2000rs budget, you can buy any of these without any doubt.
We will add more Gaming Keyboard and Mouse Combo under 2000 after getting right reviewed products. I spend hours in the best match for you.